About Koletic Designs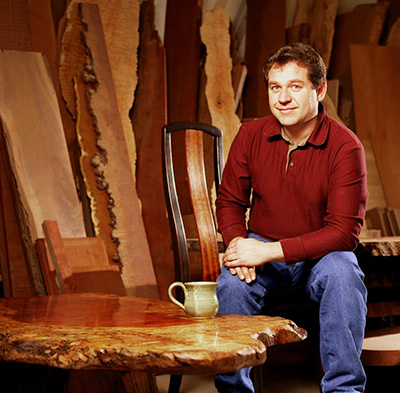 John is passionate about all forms of creativity, furniture design, exotic foods or a single malt Scotch. John brings all his varied interests together in his work. It is not unusual for him to use terms such as "cappuccino" for a dark coffee-coloured table base or "Highland Park" to describe a light amber finish.
John apprenticed as a precision instrument technician in the aerospace industry. In 1993, he began to pursue his woodworking passion bringing his ability for precision craftsmanship to this new endeavour. He developed an expertise in solid burl wood and his first product line using burl wood was a range of unique clocks. Since then he has grown Koletic Designs to be a premier custom furniture studio. He and his team design, fabricate and craft one of a kind furniture pieces for a world wide clientele.
John's design philosophy is to create pieces that will stand the test of time. His heirloom quality furniture designs feature incredibly precise joinery and silky smooth finishes on burl and figured woods. Utilizing little or no metal fasteners, John relies on locking joints, and wooden pinned joints, for furniture that will endure for many years to come.
John takes his inspiration for his designs from the work of such well-known craftsman and architects as George Nakashima and Frank Lloyd Wright, "I am inspired by nature... all of its forms and textures. I look at a piece of wood and depending on its shape, colouring and edge, see the best use for it."